The Chesleys take place at Worldcon or NASFIC every year. At the convention we also have done exhibits, lounges, and art panels in the art show for our members who would like to display.   There is a call to members before the convention to ask if they would like to hang a piece on the panels.  ASFA does not take a cut of the sales but if the piece sells it will be subject to the rules and fees that the convention has.   You do not have to be a member to participate but members get preference.   In addition to the art the panels have bios for each artist and links to their social media pages.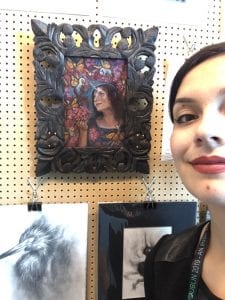 At Worldcon we sponsor the artist reception which takes place in the art show and is on the same night at the Chesleys.  The art show is a good time for artists and collectors to talk about art and the pieces they brought to the show.   We sometimes also have an ASFA suite or lounge for members to get a drink or relax away from the crowds.
Although the Chesleys took place at the NASFIC at Dublin 2019 there were panels in the art show as well as memberships provided by the convention.   If you are interested in participating at a convention where we have a presence please email us and we will help in any way we can.